Paul LaRussa; Building Meccas – Wine Cellar Designer, Builder, Contractor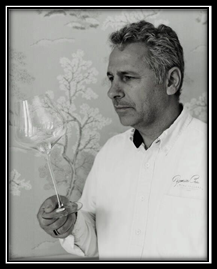 Master of Wine Meccas: Paul LaRussa
What differentiates a pretty picture from a piece that moves its viewer and alters one's
state? The answer is Artfulness.
This is perhaps the easiest way to describe Premier Cru Wine Cellars and what drives its owner, Paul LaRussa to create art in the spaces in which people love to store their wine. While some companies build cellars, LaRussa builds concept and stirs our senses with his use of space and structural design.
Going Against The Grain
While LaRussa would never mix grains when it comes to wood of course, he will go against every preconceived notion that other cellar architects will quote as gospel. When Sherman Oaks-based Kerri Gaal hired LaRussa to change her art studio

Paul LaRussa studies the Burgundy expression from his Premier CruCollection Stemware.
(adjacent to her beautifully self-designed home)
into a wine cellar she expected an immediate barrage
of information on shelving and square-inches. Instead, she says she got a surprise:
"Before Paul even got to the wine cellar he stopped in awe of our sprawling, arms-out oak tree and said 'We're using that'. I didn't know what that meant and I have to admit I felt a mixture of excitement and trepidation so I hired him on the spot." LaRussa had no intentions of altering the magnificent tree. Instead he installed a large window in the cellar. Yes, you read it right. A window. In a wine cellar. A big window.
"The window was created to frame the tree as the cellar's centerpiece. The wood from outside is drawn in visually and complements the fine Knotty Alder that I used for the cellar itself," explains LaRussa. "The angle of the window and the positioning of the shelving insured no direct sunlight would shine onto any bottles. Instead the light is defused as it enters the cellar, and shaded by the tree itself."
Perhaps it's also LaRussa's very approach to his work that sets him worlds apart from cellar makers. It might seem strange, but his success could be largely attributed to the fact that he doesn't begin each project obsessed with "what pleases most clients" as a priority. Instead, he allows inspiration to come from the space with which he is working, and the creative form which grows organically from that. As a vinophile himself, he already exists within the world of wine lovers.
Achieving the potential of the space is LaRussa's goal. He's not interested in selling preconceived, one-fits-all hardware which represents the business model for the vast majority of cellar makers. The tree concept proved to be a huge success, but that's not Gaal's favorite element of the cellar. Nor are the striking oak-barrel floorboards or the cleverly optimized use of space. The honor for favorite feature goes to the door! "It's a masterpiece," she says. Gaal herself is a stained-glass and mosaic artist. "I wanted something worthy of the term aesthetically surprising. That's important to me," she explains.
Below, Kerri Gaal discusses her favorite wines with Paul LaRussa,
in her favorite place – the cellar he built for her.
The one-hundred percent handcrafted door was created with over 500 pieces of wood to capture the upper expression of this visual artwork. The entire door is completely handcrafted with Knotty Alder and finished with proprietary means to acquire the warmth and finish.
If the Bauhaus era, which coupled framed art with tubular furniture, influenced home and office furniture around the world; and if its cubism gave birth to Tupperware's design, then it is understandable that LaRussa is seen by his wine-industry peers as a pioneer in structure and creative design. Innovation in its most exquisite form meets practicality in its most optimized variety.
Your Own Private Hide-Away
LaRussa is leading the charge to create private meccas where our memories, nostalgia, long-awaited arrivals and prized acquisitions in the form of wine bottles, lay wait for their opening day. In a LaRussa cellar, your collection will dwell in a stunning environment where detailed and original craftsmanship is honed to evoke feelings of "something exceptional". On entering one of LaRussa's cellars, you can't help but feel you are somewhere special and that the cellar you're in says everything about its owner.
A LaRussa cellar isn't just somewhere to store wine – it's your special place to spend time with your collection. "I really didn't want a generic wine cellar," says Gaal. "Paul is an artist, a discoverer. This oddly shaped room scared other cellar makers I talked to or, at the very least, limited them. Paul wasn't like them. He loved the angles. He will not play victim to challenges. He sees them as an opportunity to do something different."
A short drive across town to Pacific Palisades and a cellar of a different nature proves small is beautiful too. In the flawless home of Doreen Leeds, one can behold this unimposing yet completely arresting cellar – the possibility of which is electrifying. After all, many reading this have room for a cellar of this size. (74"d x 58"w). Could we too have a Paul LaRussa original?
(Below) This close up of Doreen Leed's home in
the Palisades demonstrates the pebble-lined floor,
flawless lines and optimized use of space.
I posed this very question to LaRussa directly. Does one have to be in the know? A friend of a friend? A fellow wino? Laughing, almost too hard at what I thought to be a fairly decent question, LaRussa replies with a resounding "Of course, you can have a Paul LaRussa! I draw lines of harmony. That's all I really do."
Sure. If it were that easy…all cellar makers would do it!
---