Eve Bushman's Eve's Wine 101 on Premier Cru Collection Stemware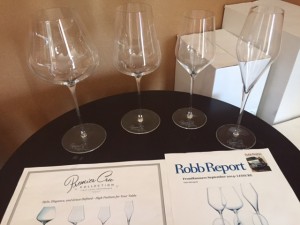 By Eve Bushman of Eve's Wine 101 –
www.evewine101.com
A Fine Wine Accessory Brand – handmade stemware.
While the luncheon (see the menu below) and the wines were great on their own, we also had the benefit of having our wines served in elegant Premier Cru handmade wineglasses. Yes, the wine glass is just as important to improving your wine experience as is the wine, the food and the company. Trust me. The stems on these glasses were so thin and delicate I first only felt confident holding them by the base. After learning that they were lead-free, and therefore stronger, I grew more confident holding them by their lovely stems.
Paul LaRussa, founder and chief designer at Premier Cru Collection said that too many people "in certain ways live in a throwaway society. This (stemware) elevates the fine wine experience. Handmade and lead free (they are) more durable stemware than you would expect by the elegance and thin stem." The glasses can be used outdoors, have even been knocked over on granite counter top and they survived – but I wouldn't try this at home.
LaRussa believes that "Light stemware allows weight of the wine to be highlighted."
The company builds large custom wine cellars that LaRussa said are highly artistic. It is LaRussa's vision to bring those that appreciate a handmade cellar a handmade tabletop to go with it. Wine is handmade so this stemware "completes the cycle." Their 200-year old German factory makes the stemware and a French company makes their corkscrews.
The tagline of the company is, "Essence of the Fine Wine Experience…"
To see the glasses go to the website and click the online boutique: https://pcwinecellars.com/boutique/ Stemware is currently being used locally at Ysabel restaurant to drink from and K & L Wine Merchants for purchase.
About Eve Bushman:
Eve Bushman has been reading, writing, taking coursework and tasting wine for over 20 years.  She has obtained a Level Two Intermediate Certification from the Wine and Spirits Education Trust, has been the subject of a 60-minute
Wine Immersion video
, authored
"Wine Etiquette for Everyone"
and recently served as a guest judge for the L.A. International Wine Competition.  You can email
Eve@EveWine101.com
to ask a question about wine or spirits that may be answered in a future column
.
You can also seek her marketing advice via Eve@EveBushmanConsulting.com
---