Would you like to drink wine from a piece of art?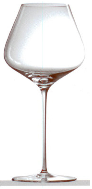 Behold Premier Cru Collection stemware.  Damn it's beautiful.  And mouth-blown, lead-free crystal and, YES, even durable for its ambitious artistic design.  Well, if you throw them in the fireplace, that's another story, but because of the absence of lead, they are demonstrably stronger than your lead crystal varieties.  Because isn't breakage particularly frustrating? No worries, the wine glasses are heirloom quality, they'll keep forever if you're nice to them, you can happily pass them down to your heirs.  Or frenemies.  Or whoever would enjoy having this gorgeous stemware.
Paul LaRussa, of Premier Cru Wine Cellars, is the inspired importer of the Premier Cru stemware collection.  First of all, Paul designs wine cellars that are unique and not only speak to a wine lover's particular needs vis a vis location, but is personally invested in making sure that his clients are supremely satisfied. The stemware is an outgrowth of his design aesthetic.  Paul scoured Europe to find just the right glasses and he found them in Germany where design is a religion.  Seriously, they are stunningly beautiful and enhance the enjoyment of drinking, well, anything, out of them.
I know, I know.  I sound like an evangelist but I particularly fell in love with the Burgundy Grand Cru glass. An architectural wonder sitting atop a slender stem, rising 10 1/2″.  Exciting and so beautiful. I just wanted to hold it forever.  And take a look at that 10 1/2″ champagne glass! Stunning!
The Premier Cru Collection hand-blown, lead free, stemware is available for shipping Now! via the online boutique (just click on the Boutique Tab at top) and at:
K & L Wine Merchants, 1400 Vine Street, Los Angeles, CA 90028
Vistit our Online Boutique at:  104.236.42.189/boutique and find something extraordinary for yourself or the wine lover, companion, family member, friend or associate.
http://www.boozenews.com/booze-news/would-you-like-to-drink-wine-from-a-piece-of-art/
---