Wine Cellar Services, Wine Cellar Repair, You & Your Wine Collection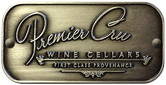 Finally, Wine Cellar Refrigeration Service & Repair from people who care!
Q: When does a bad situation become a good situation?
A:
When you call on Premier Cru Wine Cellars wine cellar refrigeration Service & Repair Department at (310) 289-1221 to service, repair and maintain your wine cellar refrigeration equipment,
that's when! Just fill in the simple Service & Repair Request Form at: www.winecellarrepair.com and receive help in just minutes . . . not hours or days!
At Premier Cru Wine Cellars Refrigeration Service & Repair Department, we often hear wine connoisseurs and wine enthusiasts complain about the less-than-adequate, run-of-the-mill, repair companies out there that tried to service their wine cellar refrigeration equipment – moving about like a bull-in-a-china-shop; a very uneasy thing to watch as fine wine stands to be lost in the balance of a clueless repair technician – lost on what gems lie around them.
A wine enthusiast, wine connoisseur, or just plain 'ol wine lover, wishes they could have a comprehensive approach to how their wine cellar refrigeration equipment is repaired, serviced and maintained by a company who understands the contents of a particular collection or wine cellar environment; as we do.
Call today (310) 289-1221 or Click www.winecellarrepair.com (then Online Help Request link on the webpage) for the best, most comprehensive, and caring wine cellar service experience you'll ever receive; that's our promise and guarantee! Call Now And Repair, Service, or Maintain your custom wine cellar and refrigeration equipment today!
Serving: Beverly Hills 90210, Hidden Hills 91302, Hollywood 90069, Hancock Park 90004, Holmby Hills, Bel Air 90077, Brentwood CA 90049, Pacific Palisades 90272, Malibu 90265, Santa Monica, Agoura, Lake Sherwood, Westlake Village, Thousand Oaks, and the Greater Los Angeles County region. We also Serve Ventura & Santa Barbara County's.
You can find the Premier Cru Wine Cellars Refrigeration Service and Repair Department at: www.winecellarrepair.com
---